Wolf Fields Community Gardens
Completed Project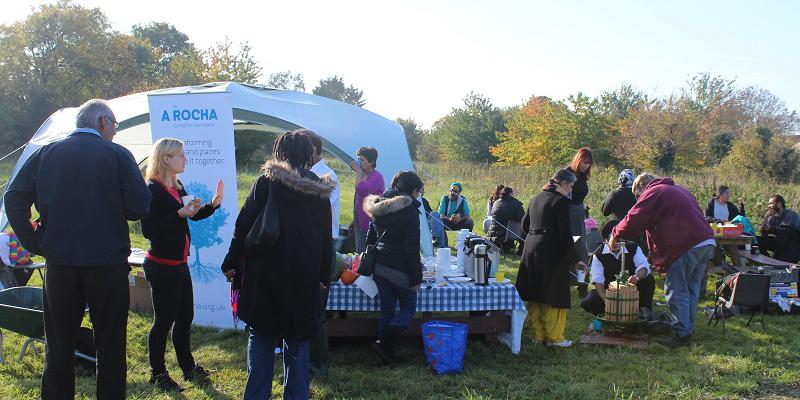 Project Date(s): January 2024
Wolf Fields Community Gardens is a three-acre site in Southall, West London. At one time it was used as a brick works. It's thought that some of the bricks made there, now form part of the outer wall of Buckingham Palace.
Since then the site had fallen into disrepair and become a neglected wasteland used only for rubbish dumping, drug taking and substance abuse. A Rocha UK acquired the site in 2012. Work started in 2013.
Initially, the site was cleared of 54 tonnes of rubbish – including 500 glass bottles, 12 mattresses, furniture, animal remains and asbestos. With the rubbish taken away, new paths were laid to improve access across the site.
The project is now under active transformation- over 17th and 20th February 2016, A Rocha staff and volunteers – along with local community members – worked together to plant a total of 60 fruit trees and 120 edible hedging plants. Nest boxes and a bird feeding station were some of the first improvements to attract wildlife. Currently a project is running to set up a video link between the local primary school and the camera in one of the nest boxes. A central part of the Wolf Fields project is the community allotment. Fully organic and lovingly maintained by local community members, the facility produces food all year round. Last year we grew and harvested everything from strawberries to pumpkins.
Following a series of assemblies in four local primary schools, a competition was held in 2014 – open to 1,000 children – to design the sensory garden. A winner from each school was selected by A Rocha UK before forwarding an overall winner to a volunteer landscaper from the Eden Project. The Ealing Association for the Blind is an active member of this particular project.
The orchard is supported by the apiary that is managed by a local volunteer. The beehives moved in to Wolf Fields in July 2015 and have already proved an important resource for visiting schoolchildren learning about pollination.
Above all, we are hopeful that this Community Gardens will soon witnessed a fully established wildlife pond, wild flower meadow and community art area by the end of this year.
The site is maintained by committed members of the Wolf Fields Friend's Group, who volunteer at the project on a weekly basis. We have also welcomed help from different community groups and faith institutions.
Wolf Fields Allotments, Norwood Road, Southall, UK