Reimagine The Heart of Acton
Completed Project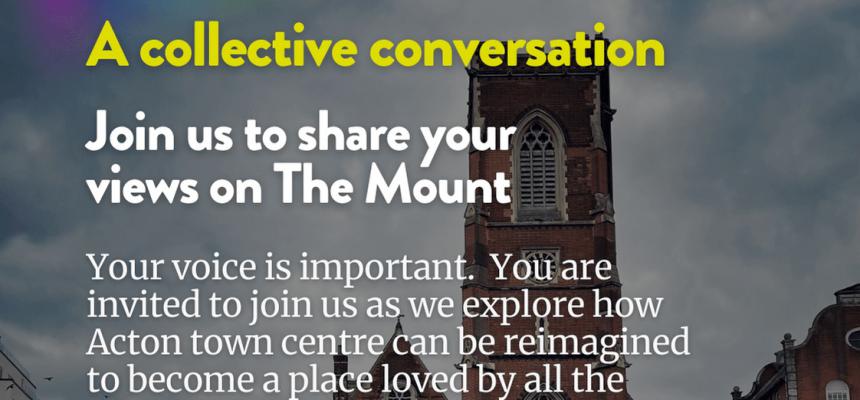 Project Date(s): September 2021
In an effort to grasp opportunities and tackle problems in the local area, community leaders and volunteers are working with MutualGain, a social capital building organisation to instigate a collective conversation about improving The Mount area of Acton.
Where? 
The event on Tuesday 14th September from 4pm-6pm will have two different access points to ensure maximum attendance. Register to have your say in this community conversation!
Live round table meeting in St Mary's Church, The Mount
Virtual meeting for those who can't attend in person.
The questions we will be asking:
1. What does the Mount area mean to you?
2. How would you like to see it improve?
3. What would you be willing to do to make change possible?
Why?
The purpose of the meeting is to highlight local issues and find possible solutions.  Once information has been gathered from this meeting, local people will be invited to pitch for an available £15K of funding to help address the themes that come from the cafe.
How?
A steering group made up of community leaders and volunteers have been meeting over the last few months to understand what questions need to be asked and how we can get all cross sections of the community to the table for the discussion. All members of the community are invited to attend.
Sponsors
We are currently seeking sponsors in the hope that we can increase the budget for paid contribution and also for other activities on the day. Local businesses interested in providing funding for paid places or help with decor, food or entertainment please get in touch.