Meadow Makeover
Completed Project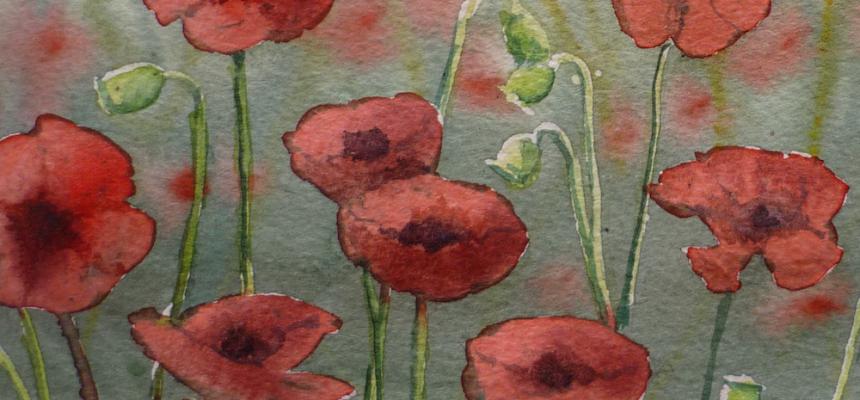 Project Date(s): April 2017 to April 2018
Ealing's green open spaces are important for conservation but I believe more can be done to increase the wildlife in them. I would like to set up a project to plant wildflowers throughout Bitterns Field.
Bitterns Field is a green open space within Brent River Park. The field's wildlife is unremarkable and is mostly made up of grey squirrels, pigeons, crows and magpies. It is dominated by false oat grass (Arrhenatherum elatius), coarse herbs like cow parsley (Anthriscus sylvestris) and hogweed (Heracleum sphondylium). At the moment the field, at all times of year, is a boring green rectangle surrounded by crew cut hedges, nettles and fly-tipped rubbish. This is doing very little to encourage wildlife and I think increasing wildflower growth could make a real difference.
Farmland birds have declined by 54 per cent since the 1970s and woodland bird numbers have dropped by 20 per cent (source: DEFRA). This is largely due to farmers using chemicals that kill wildflowers. This creates a devastating hole in the food chain, making fields into sterile areas where wild birds and animals can no longer live. Many species have retreated to woodland, but this is in turn under threat. I believe urban fields such as Bitterns Field can be used to help regenerate wildlife numbers, which would not only help conservation but would give great pleasure to residents who use these areas. I believe my project could create a field that teems with life…with goldfinches, sparrows, toads, rabbits and hares.
I understand some wildflowers were planted by volunteers, with the support of Ealing rangers, in 2015 and I would like to build on this work by creating a carpet of wildflowers across the whole area.
I do not believe my proposal would prevent Bitterns Field being used, as it currently appears to be, for harvesting hay (In summer 2016 I noticed the grass in Bitterns Field was harvested and baled up). Farmers sometimes object to wildflowers in their crops because they think they contaminate them. However, sieves on modern combine harvesters are nearly 100 per cent efficient in removing weed seeds. Combines and seed-cleaners mean any harvest can easily be made acceptable to bakers and seed merchants.
I believe small projects like this will, in the long-term, help redress the loss of habitats. I have also included community-focused activities in my proposal too because I want this project to benefit residents as well as wildlife. That's because I want to help Ealing become a borough where biodiversity is properly integrated with social, cultural and economic values and isn't just seen as an afterthought that comes behind other needs.
I have a lot of experience of creating community engagement because I used to work for the BBC as a social action producer (which involved encouraging people to take up volunteering and lifelong learning opportunities). To increase community engagement with my project I would hold an event at Bitterns Field to encourage people to come and see the scheme in action. I would build partnerships with local wildlife and nature experts, plus gardeners and allotment-holders to help me on the day. The event would include:
Children's activities such as a bird survey/wildlife trail/ minibeast hunt and a demo on making wildlife-friendly contraptions like lace-wing shelters
A free art workshop (run by me – I am a professional artist and regularly teach classes) for participants to draw and paint Bitterns Field.
A seed packet amnesty: I will ask people to root around in their sheds and greenhouses to find unused packets of wildflower seeds to donate to my project.
Organise a wildflowers talk by the charity Plantlife and a wildflower planting event (Plantlife have approximately 150 speakers across the UK who can travel within their area to give a popular illustrated talk on wildflowers which is ideal for local groups).
Volunteers are a hugely valuable resource and I will recruit a small team to help me. I will use my journalistic skills and social media presence to advertise for volunteers to help me sow the seeds. I will make the most of allocated funds by spending them on a large quantity of varied seeds. I will also consult with other people who have carried out similar projects, such as John Lewis-Stempel, who has written extensively on his mission to bring greater biodiversity to open land.
The seeds will take a while to germinate and grow and changes in wildlife numbers will also require longer-term monitoring. I will make use of free resources available from charities including the RSPB and Plantlife to accurately monitor these changes.
The potential benefits of running community engagement activities include:
Improved sense of community ownership – activities in Bitterns Field will enable residents to feel the land is for them to use and also to care about and look after.
Biodiversity enhancement – high quality habitats which link into the wider biodiversity network across the borough of Ealing will be created, restored and successfully reconnected.
Positive impacts on wellbeing – the community engagement created in developing a meadow rich in wildlife will encourage more people to explore Bitterns Field and to enjoy the natural environment, which has positive impacts on both human physical health and psychological well-being Improved community relations – the field is open to the public and providing activities that bring together the neighbouring communities, including schools and residents associations, will promote community cohesion.
Increased partnership working – through collaboration with local groups, schools and wildlife charities the profile of Hobbayne Ward will be raised and skills will be shared amongst key community organisations to generate a more co-ordinated approach to biodiversity enhancement.
Promotion of positive behavioural change – this project will hopefully encourage more people to create havens for wildlife, in areas ranging from school playing fields to back gardens.
Awareness of the project and further community engagement opportunities can be created by holding future activities. I have listed potential partners below, who often provide free help and resources:
RSPB Bird Watch: potential to organise a one hour bird watch
National Nest Box Week: organise a nest box building session (flat pack bird box kits available from www.nestbox.co.uk).
Wildlife Week: annual programme of events to celebrate the diversity of the UK's natural heritage and to raise awareness of conservation issues.
Big Butterfly Count: annual nationwide survey to help assess the health of the environment by using butterflies as indicators of biodiversity.
In the longer term I hope the Bitterns Field project could be part of an Ealing Biodiversity Trail, which would showcase areas in the borough rich in wildlife. This trail would be a free service open to everyone, with iPods available to borrow from libraries.