The Sharks @ Havelock/Toplocks
Project Idea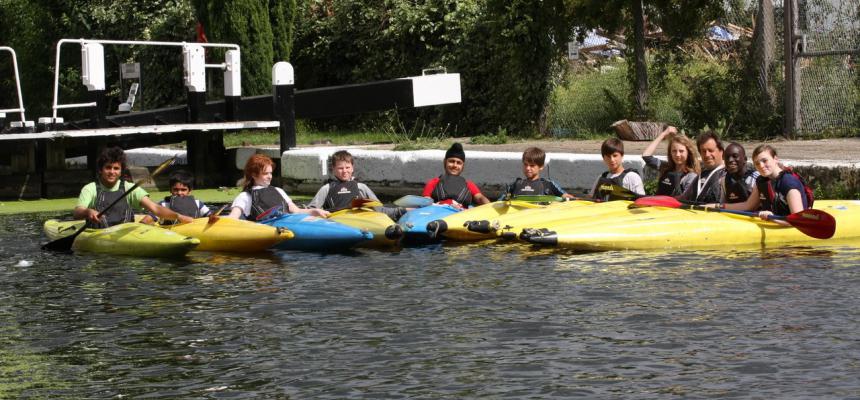 Project Date(s): October 2019
We want to create the opportunity for young people living on the Havelock & Toplocks estates in Southall to take up canoeing & develop their potential. Our proposal is to transform disused garage areas (that have become a no-go area) into storage space for canoes & the relevant kit as well as provide changing & other facilities for community benefit. We will retrofit at least 4 of the existing garages to create a club house space with secure access, racking for storage, & provide paddling machines & other fitness equipment for land-based sessions during the winter months. We will carry out external improvements between the garages & the canal side to improve safety, creating access for all & enhancing the area for the benefit of local people & visitors.
What we'll deliver:
Bring disused garages back into positive use
Improved landscaping between canal and garage area to enable access
Opportunities for healthier lifestyles
A thriving Club which local people can be proud of
Why it's a great idea:
We know there is a need here – we ran free tasters this summer (18 young people took part for the first time) & have an after school offer which could accommodate up to 30 young people/week. The project will result in a thriving, active Club engaging & inspiring a new generation of young people living locally & regionally. It will create support for the local area & initiate a strong sense of community pride, supporting the regeneration of the area. It will convert a no-go area into a safe, accessible facility that contributes to the vibrancy of the community & built environment It will get local people (of all ages) active & involved in water based activity on the canal. They will have the benefit of accessing healthier life styles, being involved in a fun sport with a great social aspect. There will be training and volunteering opportunities to help run & manage the Club's facilities as well as coaching courses and some paid opportunities. Helping people to help themselves.
Steps to get it done:
Reprovide access to the garage spaces and clear them
Refurbish garage spaces
Start delivering service
Hosting entry level races
Taking local people to race and or participate at other venues
The conversion of this dead space into canoe club facilities, will bring something positive to the area. We know there is the demand because we have been running very well attended projects nearby for over 4 years. However, we have been limited by the need to bring equipment in each time.
With a permanent base at Havelock, we will be able to expand the offer to include: Lessons for beginners of all ages, general recreation sessions and opportunities to take the sport up competitively. More frequent sessions with increased capacity as the equipment is stored on site. All year round opportunities, not hampered by reduced daylight and cold weather as we will have somewhere we can meet and use our indoor facilities, canoe paddling machines and other exercise equipment. Opportunities for non-paddlers to take part in the land-based exercises (parents and those often harder to engage with) A base to operate from where we will be able to reach out and work with more local schools.