Open Havelock – canal and landscape improvements
Completed Project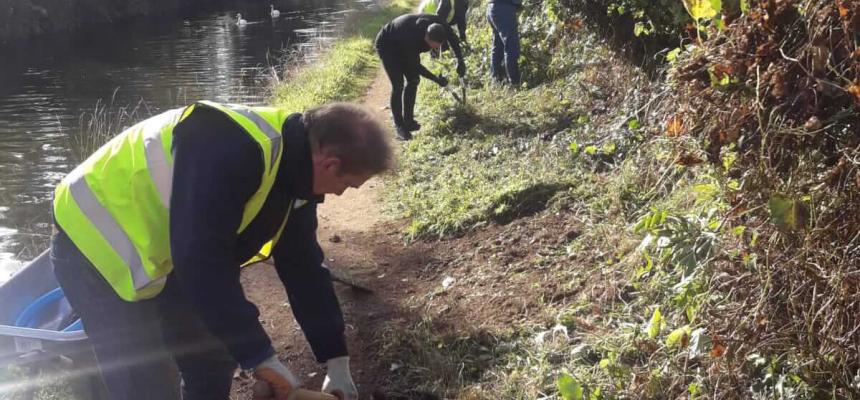 Project Date(s): March 2020
This 'canal and landscape improvement' proposal is part of a larger 'Open Havelock' project which aims to transform 36 abandoned garages and 2,000 sqm of associated undercrofts and blighted public realm on the Havelock estate in Southall into social and delightful 'meanwhile' spaces that deliver tangible community benefit whilst the area is regenerated.
Open Havelock will create opportunities for play, sport and recreation as well as providing workshop, studio and storage space to build the capacity of local enterprises and community groups. The project aims to establish and nurture partnerships and programmes that will become embedded in longer-term strategies and designs for the neighbourhood.
Open Havelock has been developed through extensive community engagement and is built on a sound understanding of local needs, issues and aspirations. It adopts an asset-based approach that maps and builds on community assets such as networks, skills, volunteering, entrepreneurship and facilities. The project is underpinned by feasibility study and is shaped by focused live testing. This element of the project aims to activate and enhance the canal side green spaces adjacent to the garages and promote physical activity opportunities by the canal (walking, cycling, and kayaking) for improved health and wellbeing. The project will establish a strong connection between the Havelock estate and canal and ties into the Council's strategic objective invigorate the waterway and promote physical activity in the borough.
Grand Union Canal Walk, London, Southall, UK
1km stretch of the Grand Union Canal and adjacent green spaces which run from Bixley Field to Toplocks alongside the Havelock estate in Southall UB2 4RJ