Ealing Civic Society – A Plaque for Ada Lovelace
Completed Project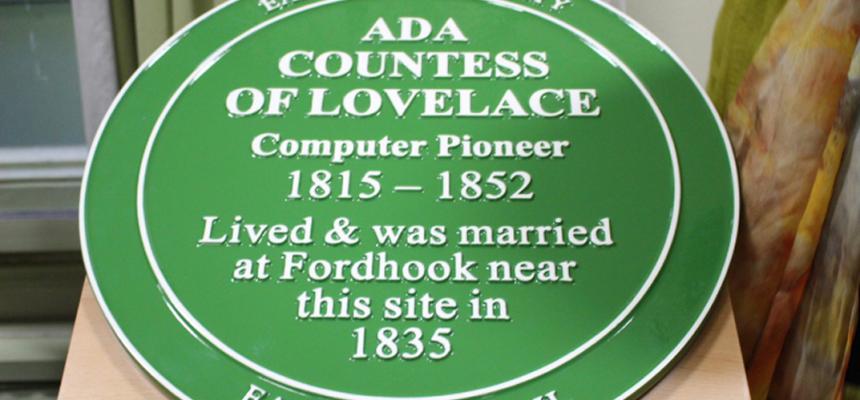 Project Date(s): April 2019 to December 2019
Ada, Countess of Lovelace, is an eminent British scientist. She was a computer pioneer, who lived for a time early in her life at Fordhook (House) at Ealing Common. Ada's mother, Lady Byron, had taken a lease of Fordhook for their country home away from the city home.

Ada was married at Fordhook in 1835 to William, Baron King. When William inherited the title of the Earl of Lovelace in 1838, Ada became the Countess of Lovelace. On marriage, Ada left her home at Fordhook to live in her husband's home in Surrey.

Ada was an English mathematician and writer, chiefly known for her work on Charles Babbage's proposed mechanical general-purpose computer, the Analytical Engine. She recognised that the machine had applications beyond pure calculation and published the first algorithm intended to be carried out by such a machine. As a result, she is sometimes regarded as the first to understand the full potential of a "computing machine" and the first computer programmer (extracted from Wikipedia).

Ada's reputation has grown significantly in recent years:
The Bank of England has announced that she is one of the prominent British scientists who should be considered for the face on the new £50 note. Ada Lovelace Day is an annual event celebrated on the second Tuesday of October, whose goal is to "raise the profile of women in science, technology, engineering, and maths," and to "create new role models for girls and women" in these fields "Ada Lovelace – visionary of the computer age" exhibition was held at the Science Museum in 2015. The ADA computer programming language is named after Ada Lovelace.

In Ealing:
Ada Lovelace Church of England High School opened in Greenford in September 2018 as a new Free School. The school is the newest in the Twyford Church of England Academies Trust and will be an 11-18 comprehensive School with a roll of about 1300 pupils. The school is due to move to permanent premises on the former Barclays Bank Sports ground in September 2020.

This plaque would also be the first ECS Green Plaque to be erected for a woman scientist in Ealing.

The location of Fordhook is not known exactly but is thought to be near the eastern junction of Fordhook Avenue and Byron Road, W3. We plan to erect a plaque on a nearby property on the corner of Fordhook Avenue and the Uxbridge Road at Ealing Common. The site is easily visible from the entrance of Ealing Common Tube Station across the road.
The plaque will be fixed inside the Victorian decorative roundel on the side of the building at 5 Station Parade.