Stomping grapes at Horsenden Grape & Honey Farm
Completed Project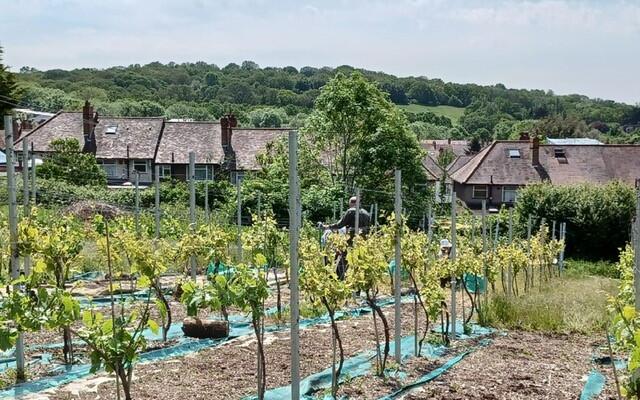 Project Date(s): September 2023
The Horsenden grape and honey farm need volunteers to help with the harvesting and stomping of grapes. This is an exciting and fun opportunity that rarely takes place in the UK.
Though this summer has come with waves of sunshine and rain, this has not deterred the grapes at Horsenden grape and honey farm from flowering, the greens grapes are ready to be picked and harvested for wine and juice. The farm needs your help to pick the grapes, to clean them and then the fun part of stomping on them for juice.
The stomping will be done barefoot, you will be required to clean your feet in a special cleaning solution and it is recommended that you either wear shorts or trousers that can be rolled up to avoid staining.
Grape picking will take place on Wednesday 6th September,  starting  at noon, the whole process of picking, cleaning and stomping will be complete by 4pm.
Tea/coffee/juice and cake will be available, to keep energy levels high and hydrated.
The farm is managed by volunteers who are all local residents of Greenford, they welcome people of all ages and backgrounds. You do not have to live in Greenford to join in. Families are welcomed as are single people.
The farm was once a wild overgrown green space that has been carefully tended to by local volunteers to grow a vineyard, fruit orchard and growing spaces. It hosts classrooms and a kitchen and the Horsenden Allotments team have a gardening shop that is open at the weekends.
Join in the fun for a once in a lifetime stomping opportunity!
Horsenden Grape & Honey Farm, Whitton Avenue East, Greenford, UK